If you've got a date coming up, then you will be so excited. As for women they are very concerned about the outfits they are planning to wear on the day. When you have dates in summer then choosing the outfit according to the type of date you are going with your partner is also very important. We here list you a few suggestions that you can opt from.
First Date Outfit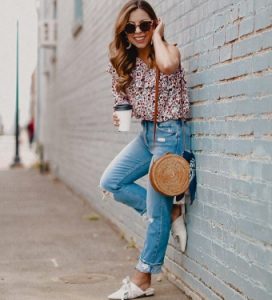 First date outfit are very special for everyone as we will be most excited. Choosing a dress that should look good on us is very important. The outfit should be comfortable to wear also. When you want to have a more femine look then a stylish skirt and top worn with medium height heels is a perfect choice to wear on a summer date. Choose light color dress, or mild floral prints along with high heel sandals.
Movie Date Outfit
A movie date is a traditional date that all couples enjoy. This doesn't need a very formal look like you are going for a 5-star restaurant; you can be normal and wear something of your comfort. A simple waist length loose pants and a shirt with either full sleeve or half sleeve can go well for the movie date. A bolder heel will be suitable for this.
Casual Date Outfits
When you are going for a coffee with your crush then it is  a good idea for you to wear Pairing denim with slightly dressier pieces they will give you a more relaxed look, you can choose for different fabrics of tops to wear according to your choice. You can have sunglasses, watches and other simple accessories to rock on casual date outfit ideas
Dinner Date Outfit
Most romantic and sophisticated dates are the dinner dates. You can have lovely long knee length tops probably of black in color with high heels.  It is a great choice to have a style, elegance that is fitted in comfort. Along with the black sandal heels you can also have  a small and sleek clutch, and some light jewelry to match with the dress. This is one of the brilliant summer date night outfit ideas.
Beach Date Outfit
When you have an outdoor date on a beach, then you should go with the light weighted products which are made from chiffon or cotton. A midi or maxi dress with cute vibrant colors either short or medium length with flat heels is a good choice for the beach day outfit.