A silk blouse material dress will give a more elegant and beautiful look in a pretty natural way. It i snot necessary that you have to wear these silk materials to your parties, you can wear them for your regular office, etc. It looks very good when you pair it with jeans or skirts. To show you even more options on how silk shirt outfits for women, we have listed a few combinations below.
Black Silk Wrap Blouse with Skinny Jeans
The most popular colors for the silk blouse are white and black. You can even have an olive green and a slight golden color to wear at your parties. A simple black color silk blouse with v neck wrap paired with black skinny jeans along with heels and a blush pink leather purse is fantastic for your daily wear.
Dark Purple Silk Blouse with Black Leather Vest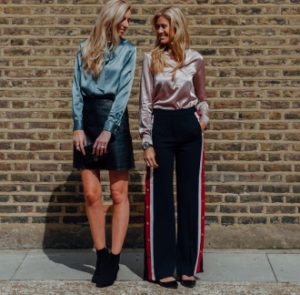 A very interesting outfit where you can wear a dark purple silk blouse and layer black leather or styled vest. It goes well with a pair of light blue floral embroidered cropped jeans and blue loafers to look unique and stylish.
White Silk Blouse with Black Skinny Cuffed Jeans
To have a refreshing and elegant business casual look you can simply wear a white silk blouse with a black skinny cuffed jeans and a simple silver stated necklace along with open toe heels.
Navy Silk Button up Blouse with Black & Silver Sequin Midi Skirt
A very attractive casual look, a navy silk button up shirt with a black midi high split skirt, if needed you can have a silver sequin. Match it with a black pointed toe heels to give a gorgeous look. One of the best tips for styling a silk blouse is to attire the above style.
Blush Pink Silk Button up Blouse with Light Grey Blazer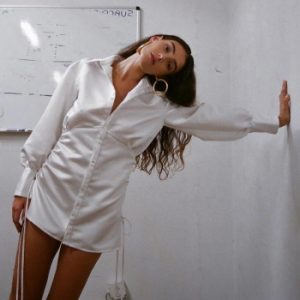 A blush pink wear silk shirt for women gives you a more mature and low profile for work. You can have this blouse along with a light grey blazer with black leather pants and some printed heels to have a stylish look.
Lime Green Silk Long Sleeve Top with Blue Mom Jeans
Lime green is a very cool and a super color. They are very stylish and eye-catching too. You can pair this silk blouse with blue mom jeans along with a printed ballet flats to complete the look.
Pale Yellow Blouse with Crepe Longline Chiffon Coat
A stylish look with a pale yellow button up silk blouse when it is paired with a longline crepe chiffon coat is a perfect wear. You can opt for light green cuffed straight leg linen pants along with pale pink flats to look breezy and refreshing.
White Button Up Silk Blouse with Light Blue Skinny Jeans
It gives a very cool wear for casual Fridays to look smart and stylish. Have a silk blouse shirt and button up blouse with some fancy silver buttons. It goes well with the light blue skinny jeans along with a red open toe strappy heel.