Combat shoes are a great choice when you have leather outfits, either a jacket or a jean or even goes well with skirts. According to the occasions we here list a few ideas how to wear combat shoes. You can choose them according to the occasion you want to pair, you have many instant ideas listed below to choose with and also a few casual wear for your office and some with classic touch.
Faux Leather Leggings, a Tee and a Biker Jacket
When you're wearing leggings then put a leather jacket on the top and have these combat shoes. It is good to go wear them.
Maxi Dress and a Leather Jacket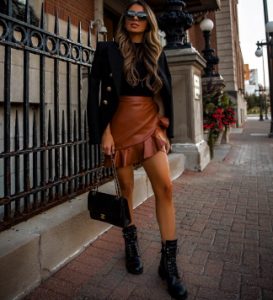 You will be having your favorite maxi dress along with some floral prints, you can grab a leather jacket in the color it suits your outfit and wear combat shoes to give a great look. It is really one of the easiest ways to wear combat boots.
Wide Leg Pants and a Wrap Top
Do you love wide leg pants, wrap it up along with a matching top and have these combat shoes to match with to have a perfect combination.
Oversized Sweater, Straight Leg Jeans and a Coat
A perfect costume for your winter when you are wearing a sweater along with your jeans, have a printed coat on knee length long outfits with combat boots a good to go combination.
Skinny Jeans, Plaid Shirt, Camel Coat
A very cool combo to wear, have a dark colored jean paired with a good plaid shirt and have a camel colored coat along with these shoes. It is a very good combination which gives you a more elegant look.
Black Skinnies, Camisole, Plaid Blazer
Many of them love to wear this for their office. Particular attire has a delicate cami with an oversized blazer and boots. They look very comfortable and easy to carry too.
Burgundy Skinnies and Pink Bodysuit
Wear some burgundy pinkies along with beautiful pink or reddish tops with combat shoes; give a party ready look for you.
Straight Leg Jeans, Coat and Faux Fur Scarf
A normal straight jean along with a casual tee shirt with a long coat and a scarf tied around the neck is a great choice to give that classic touch.
Straight Leg Jeans and Snug Top (Bodysuit)
It is a sexiest outfit, when you have a knee length jean with some black tops, along with a sleek sling and combat shoes. You can opt this for your dinner date or date with your husband.